Whatever your level of fitness we have a walk for you
At Nordic Fitness Ireland we are passionate about walking and we want to ensure that whatever your level of fitness there is a walk for you to enjoy. 
We have regular walks from 30 mins up to 4 hours. Walks in our Walk for Wellbeing programme can be done with stability poles (health walks), or Exerstrider or Nordic poles (all other walks). Walks in our Walk for Fitness programme are with Nordic poles only. 
Whichever walk you choose be sure to check the description to ensure it is suitable for your level of fitness. If you are unsure please give us a call. Whilst we encourage you to push yourself we will never let you attend a walk that we feel is out of your reach.
NB: You can attend one of our  Wellbeing walks on 1 occasion without poles to find out more about walking with poles. After this you will be required to attend one of our training programmes and purchase your own poles to attend walks.
Duration: 30 – 45 mins
Our Health Walks are ideal for anyone with long term health conditions or those returning to fitness after surgery or illness, with participants using stability or Nordic poles.
Lead by our instructor Joanne, a retired nurse,
 so you know you are in good hands.
The walks are on a flat surface and at a very gentle pace.
If you have a carer they can join the walk free of charge but they must book.
Cost:
€5 pp Max 6 people + carers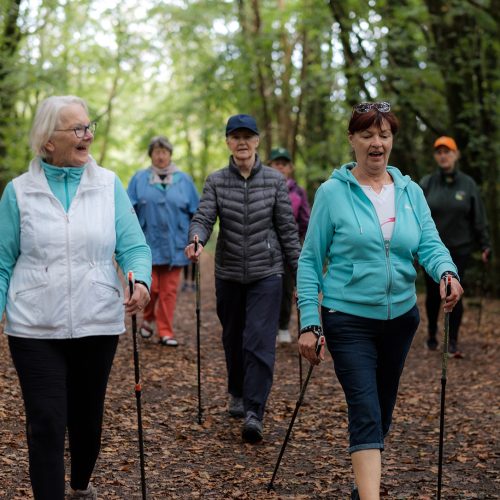 Duration: 1-1.5hours
Our Social and Mystery Walks are perfect for making new friends while getting some exercise.
The walks are at a gentle pace, walking to the level of the slowest walker – nobody gets left behind. We will walk along forest trails and coastal paths. 
Cost: From €4:50 with class pass
PAYG €10 
Duration: 1-1.5 hours
Our Mindfulness Walks are ideal for taking time out for yourself for a gentle paced walk to embrace the countryside. The walks will be along woodland trails that maybe uneven at times.
Lead by our walk leader Marie Therese a mindfulness coach, she will lead you a a short meditation during the walk.
Cost: From €4.50 with class pass
PAYG €10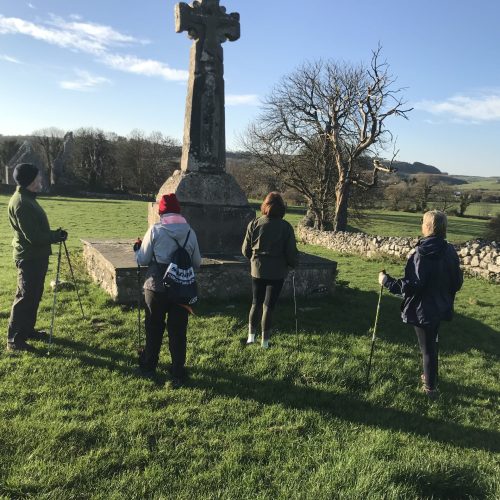 Duration 1-1.5 hours
We are very fortunate in County Clare to have a number of heritage trails.
The heritage trails  aim to encourage us to experience the exceptional landscapes, seascapes, history, heritage, culture, folklore and to take time to learn about the local people and communities which make this County unique.
The walks will be at a gentle pace stopping to enjoy the views or hear about the history and culture of the place. The walks are on mixed terrain of road and tracks.
Cost: From €4.50 with class pass
PAYG €10
You must have completed both Nordic Poles 1 & Nordic Poles 2  and have your own Nordic Poles before attending any of these walks. Good levels of fitness required.
Duration: 45mins – 1 hour
These walks are at a faster pace. Typically covering 5K in less than 1 hour.
Cost: 
From: €4:50 with Class Pass
PAYG €10
Duration: 2-4 hours
Our Endurance Walks whilst not at a fast pace, a continuous steady pace is required & you will be on your feet for a longer period of time.
The walks often take us up  hills and typical Burren landscapes.
Bring along water and a snack. We will either stop at a local hostelry after the walk or enjoy a cuppa & cake from the Car Boot Café
Cost:
From: €4.50 with class pass
PAYG: €15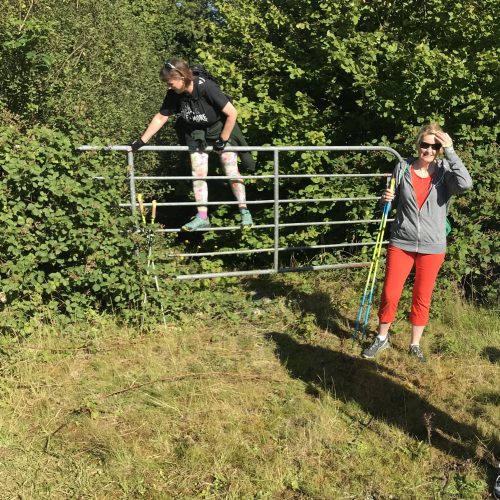 Duration: 1-1.5 hours
Our Adventure Walks will take you across rougher terrain and often through mud and water over gates and styles. Getting off the beaten track you will get to see some spectacular countryside and views. 
Cost:
From: €4.50 with class pass
PAYG €10
Duration: 1-2 hours
To attend these walk you must have completed our Power Hiking class and be able to walk 10k in 1.5 hours.
These walks are at a much faster pace over rough and hilly terrain.
Not for the faint hearted!
Cost: 
PAYG €15