Nordic Walking
Instructor Training Programme
Start your own fitness based buisness
Nordic Walking Instructor Training Programme
When you train with Nordic Fitness Ireland you don't just become a Nordic Walking  Instructor but join a national community of like minded instructors in Ireland and an network of instructors across the world.  
Nordic Fitness Ireland have been providing Nordic Walking classes in Ireland for 5 years. Their instructors, Joanne & Tony Burke, are qualified in Fitness Walking through the YMCA programme and in Nordic Walking with the International Nordic Walking Association (INWA) and Nordic Walking UK (NWUK)
Both Joanne and Tony are now qualified as Master Trainers (EQF Level 6) with the Original Nordic Walking Federation (ONWF) and can now train new instructors in Ireland. They are the only internationally accredited people in Ireland who can do this. Prior to their qualification anyone wishing to train as an accredited Nordic Walking instructor would have had to travel to the UK.
New instructors who complete our programme will be awarded EQF Level 3 Instructor in Nordic Walking.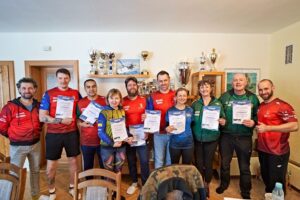 Whilst experience of basic Nordic walking is beneficial, it is not essential. We would however, recommend completing our Introduction to Nordic Walking course prior to completing the Instructor Training Programme please call us to arrange this. 
The course is particularly suited for Personal Trainers, Pilates / Yoga Instructors, mountain or walk leaders, runners, or health professionals. Additionally community and nursing activity leaders would find this an excellent addition to their skills. 
At the end of the course the participant will:
Know the history and origins of Nordic Walking.
 Recognise the different types of walking poles.
Be able to choose the correct length poles for participants.
Understand the demographics & behaviours of the people who Nordic Walk.
Be able to manage group training.
Be able to instruct others in how to use Nordic poles correctly.
Recognise basic mistakes participants make and the methods in which to correct them.
Lead a warmup and stretch routine prior to and after classes.
 Know some simple exercises to improve, strength, flexibility, and balance.
 Know how to risk assess and lead a walk/ fitness class
Have basic knowledge of how to start a Nordic Walking business (a further 3 hour zoom training session is available for more in depth knowledge and support at an additional cost)
The Instructor Training programme is run over 2 sessions:
Session 1: Theory – 2-3 hours zoom call or in person + self-directed homework.
Session 2:  Practical & Assessment  1-day (Minimum 8 hours)
Courses will be held in Co. Clare.
Depending on demand courses may be offered in other counties.
POA
Included:
Theory & Practical Training sessions
Training manual in electronic format.
EQF Level 3 Certificate
1 year's subscription & license to practise with ONWF
1 years annual membership with Nordic Fitness Ireland
Access to private instructor members area on Nordic Fitness Ireland website
Access to private Nordic Fitness Ireland Instructors Facebook Group
Monthly Instructors ZOOM meeting.
Preferential cost on pole purchases.
Access to ongoing CPD modules (additional cost may apply)
Light refreshments (Tea. Coffee, snacks)
Not included but essential for running a Nordic Fitness Club
1 pair of Instructor poles supplied by Nordic fitness Ireland at preferential rates
10 sets of Nordic Poles and carrying bag supplied by Nordic Fitness Ireland) (POA)
Insurance (Arranged by participant)
First Aid Training (Arranged by participant)
Optional training
Business set up training by Nordic Fitness Ireland.
Not Included:
Travel to & from training venue
Accommodation
Meals