Nordic Walking and Heart Disease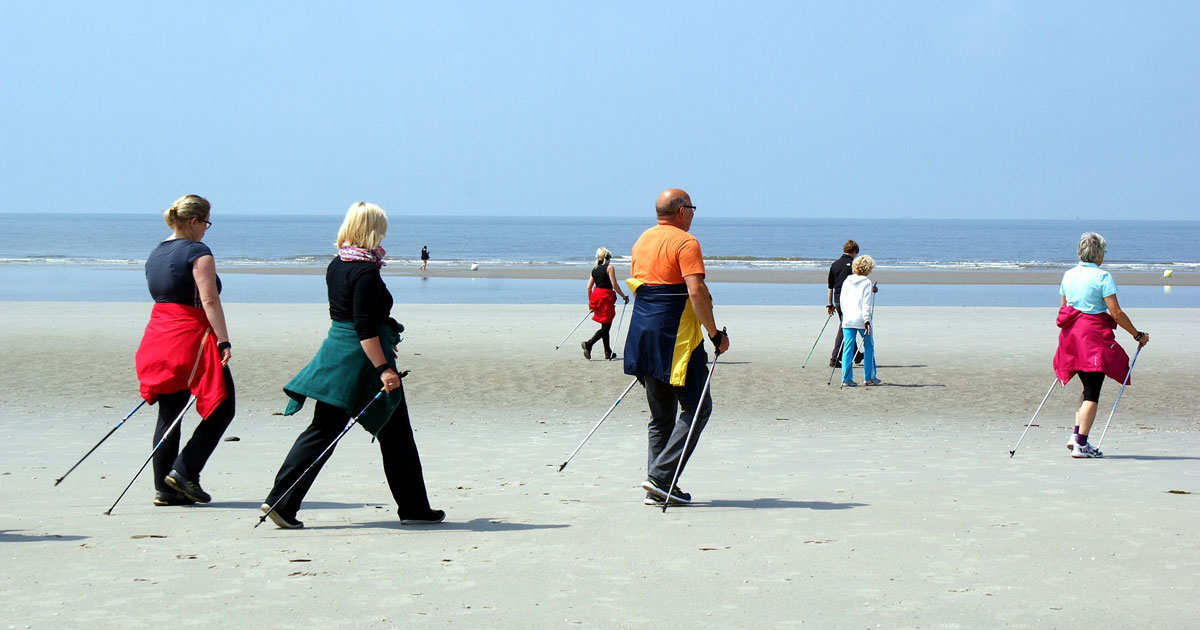 Approximately 10,000 people die in Ireland from Cardiovascular Disease each year, accounting for 36% of deaths per annum. That's despite the fact that 80% of all heart disease is deemed preventable through some lifestyle changes and modifying risk factors.
Aerobic exercise in patients with heart failure improves quality of life and reduces heart failure related hospitalisations. However, many heart failure patients find it difficult to exercise. Nordic walking increases cardiovascular activity with less perceived effort.
Women & Heart Disease?
1 in 4 women die from heart disease and stroke but 80% of early deaths can be prevented by making healthier lifestyle choices.
A woman's risk of heart disease and stroke increases from age 40 as she moves into menopause.
September is Heart Month, and the Irish Heart are calling on women to join the #HerHeartMatters campaign and take stock of their heart health.
How does exercise help heart disease?
Exercise has many positive effects on heart health. A regular exercise routine can help:
Lower blood pressure
Reduce cholesterol
Lessen risk of developing diabetes
Maintain healthy body weight
Reduce inflammation throughout the body
How much exercise should you do?
Adults should be active at a moderate intensity, for at least 30 minutes a day, 5 days a week.
Muscle strengthening activity should be included 2-3 days a week.
It is also recommended that older adults should include balance activities 2-3 days per week.
At Nordic Fitness Ireland we offer walks and classes that cover all of these requirements.
CHECK OUT OUR CALENDAR
OR CALL US 087 693 6903
The Research
Nordic Walking & Heart Disease
Research shows Nordic walking:
enables heart failure patients to exercise more intensely than walking without poles.
increased VO2 by 2.9 ml/kg/minute (14.7%)
increased respiratory quotient by 18%
increased peak heart rate by 15 beats per minute
increased maximal BP by 10 mmHg
fatigue level was increased by 2 points
The researchers concluded that Nordic walking allows patients with heart failure to safely increase the intensity of exercise and gain additional cardiorespiratory benefits from exercise.
Significant increase in oxygen consumption by 20% compared to normal walking, with increased calorie expenditure and heart rate compared to normal walking. Perceived exertion did not change with Nordic walking and the increase in cardiovascular expenditure. (Church et al 2002, Kocur et al 2009, Schiffer et al 2009)
Nordic walking significantly improved walking distance in clients with intermittent claudication. (Spafford, C., Oakley, C., Beard, J.D. 2014)
Nordic walking was superior to standard cardiac rehabilitation care in improving functional capacity and other important outcomes in patients with heart failure. (Keast et al 2013)
More Benefits of Nordic Waking
All walking is excellent for everyone; however, research demonstrates that Nordic Walking has several additional benefits.
Walking distance and speed have also been shown to be increased with Nordic walking by up to 30%. (Oakley et al, 2008, Breyer et al, 2010 and Mannerkorpi et al 2010)
Nordic walking was 106% more efficient than normal walking in improving gait speed among the elderly. (Figueiredo et al 2013)
Nordic walking provided a larger improvement in upper body strength, cardiovascular endurance and flexibility in older adults compared to normal walking and band-based resistance exercises. (Takeshima et al 2013)
Health benefits of Nordic walking: a systematic review Tschentscher M, Niederseer D, Niebauer J. Am J Prev Med 2013 Jan;44(1):76-84.
The impact of Nordic walking on bone properties in postmenopausal women with pre-diabetes and non-alcohol fatty liver disease Xiaming Du, Chao Zhang, Xiangqi Zhang, Zhen Qi , Sulin Cheng and Shenglong Le. International Journal of Environmental Research and Public Health. July 16, 2021
Stick Together: A Nordic Walking Group Intervention for Breast Cancer Survivors Journal of Psychosocial Oncology · March 2015 DOI: 10.1080/07347332.2015.1020465 · Source: PubMed
Nordic walking and its clinical benefits in different disorders Shailendra KapoorPage 1676 | Published online: 25 Jan 2013 https://doi.org/10.3109/09638288.2012.756945 Accessed 28 July 2022
Long-term effects of high-intensity interval training, moderate-to-vigorous intensity continuous training and Nordic walking on physical and mental health in patients with coronary artery disease T. Terada. https://esc365.escardio.org/presentation/244800?query=nordic%20walking Accessed July 28 2022
The effects of pole walking on arm lymphedema and cardiovascular fitness in women treated for breast cancer: a pilot and feasibility study Carlotta Jönsson , RPT, MSc &Karin Johansson , RPT Pages 236-242 | Published online: 31 Oct 2013 https://doi.org/10.3109/09593985.2013.848961 Accessed 28 July 202
Nordic walking compared to conventional walking and band-based resistance exercise on fitness in older adults. Takeshima N, Islam MM, Rogers ME, Rogers NL, Sengoku N, Koizumi D, et al. Effects of J Sports Sci Med 2013;12(3):422-30.
Nordic walking increases distal radius bone mineral content in young women Takeru Kato, Toru Tomioka, Takenori Yamashita, Hidehiro Yamamoto, Yasuhiro Sugajima, and Norikazu Ohnishi. Journal of sports Science and Medicine. Pub. Online May 01, 2020
Want to know more?
Our classes and walks for people with CONDITION are lead by our instructor, Joanne, who is a retired nurse, with a passion for helping people like you get the best from your exercise programme.
To find out more about what we can offer you call or email Joanne:
TEL:  +353876936903
EMAIL: joanne@nordicfitnessireland.com