Introducing NFI Chatbot: Your Ultimate Guide to Nordic Walking and More!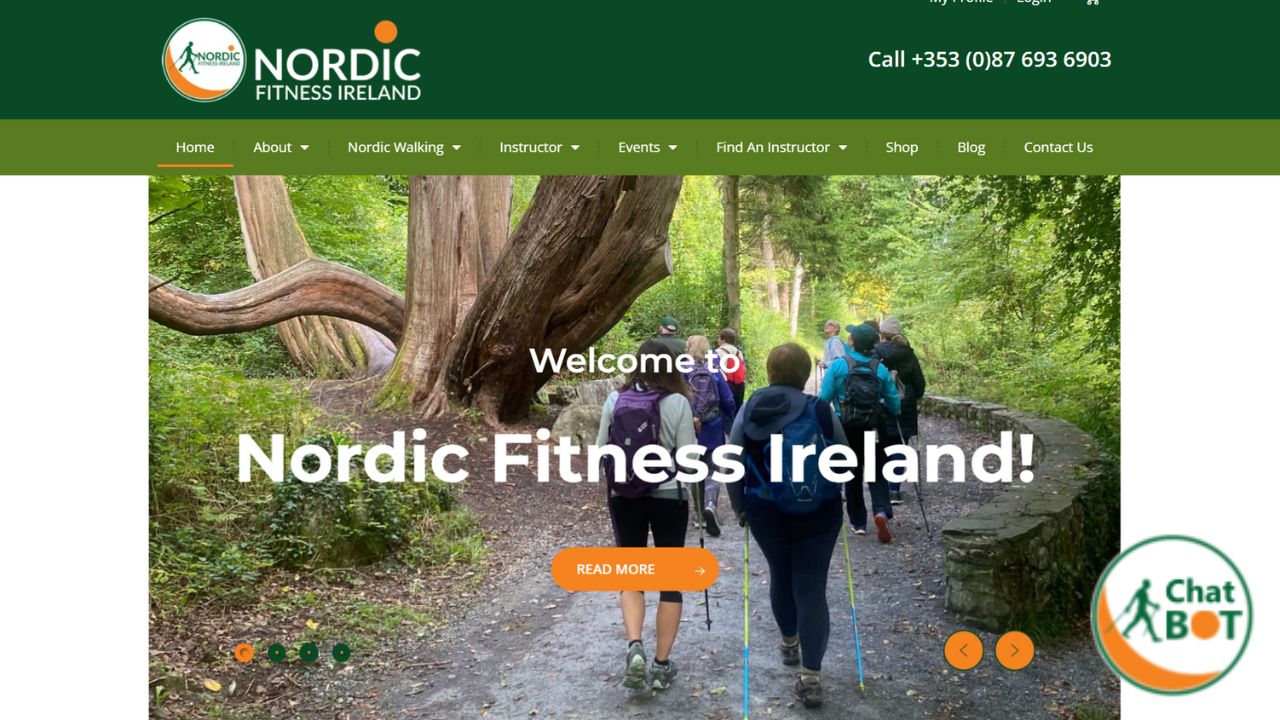 Hello, Nordic walking enthusiasts! We are thrilled to introduce our newest team member: NFI Chatbot, your friendly Nordic Fitness Ireland chat bot. Yes, you heard it right; we've added a digital touch to our Nordic walking world. But don't worry, NFI Chatbot is not here to steal your walking poles; it's here to enhance your Nordic fitness journey in the digital age.
Yes, we even gave it a catchy name to make your online experience more enjoyable. But don't let the name fool you
So, what's the deal with NFI Chatbot, you ask? Well, think of it as your trusty virtual walking companion, available 24/7 to answer your Nordic walking queries, & provide expert tips and advice. NFI Chatbot is always ready to chat.
Now, you might wonder why we decided to bring a chatbot into the world of Nordic fitness. The answer is simple: convenience and accessibility. We are always on the lookout for innovative ways to bring you the best Nordic fitness experience. And what better way than to have a virtual expert available 24/7 to assist you on your journey to health and wellness?
But let's get to the good stuff. In this blog post, we'll introduce you to NFI Chatbot's capabilities and how it can be your go-to resource for all things Nordic walking.
We believe in making Nordic walking and fitness accessible to everyone, whether you're a seasoned pro or just starting your journey. NFI Chatbot is here to provide clear, concise information tailored to your fitness level and goals.
Joanne and Tony Burke, the brains behind Nordic Fitness Ireland, have poured their extensive knowledge into NFI Chatbot so it can bring you expert advice.
Nordic Walking: Whether you're a beginner or an experienced Nordic walker, NFI Chatbot has you covered. Expect clear instructions and expert tips to help you make the most of every step.
Rehabilitation Walking: For those dealing with long-term health conditions, Joanne's nursing expertise shines through. NFI Chatbot can provide tailored guidance to support your rehabilitation journey.
Nordic Fit Club: Get ready for fun and effective fitness routines with NFI Chatbot. It's like having a personal trainer in your pocket!
Events: Stay up to date with all the exciting Nordic Fitness Ireland events, classes & walks. NFI Chatbot will keep you in the loop, so you never miss a beat.
Instructor Training: If you aspire to become a Nordic fitness expert yourself, NFI Chatbot can point you in the right direction.
Joanne and Tony's Personal Touch
Joanne and Tony's personal journeys in health and fitness make them the perfect mentors. Tony, a seasoned mountaineer, and ultra-marathon runner, specialises in Nordic running and event preparation. Joanne, with nearly four decades of nursing experience, focuses on rehabilitation walking.
The NFI Chatbot Experience
NFI Chatbot isn't your average chat bot. It's equipped with the latest research and expert-backed information to ensure you receive the best guidance. Whether you're interested in the health benefits of Nordic walking or preparing for your first marathon, NFI Chatbot has the answers.
Here's what you can expect from your virtual Nordic expert:
Clear and Concise Information: NFI Chatbot provides information in a straightforward manner, making it easy for everyone, from beginners to advanced Nordic walkers, to understand.
Research-Backed Insights: NFI Chatbot stays up to date with the latest research in Nordic walking. You can trust the information you receive is based on scientific evidence.
Tailored Recommendations: NFI Chatbot can tailor its advice to your fitness level and goals. Whether you want to increase your endurance, lose weight, or improve your overall well-being, NFI Chatbot has a plan for you.
Now, let's not forget the fun part. NFI Chatbot might be a fitness expert, but it's got a playful side too. Expect some good-natured banter and the occasional Nordic walking joke as you chat with our digital friend. After all, fitness should be enjoyable, right?
Meeting NFI Chatbot is as easy as taking your first Nordic walk. You can chat with it right here, on our website. Whether you're curious about the correct pole technique, looking for event information, or need some motivation for your next walk, NFI Chatbot has got you covered. Just remember sometimes NFI Chatbot takes a break and will let you know you are out of tokens but don't worry leave it an hour and it will chat again.
Join the NFI Chatbot Adventure
So, there you have it – the exciting introduction of NFI Chatbot your virtual Nordic walking companion. It's like having Tony and Joanne in your pocket, ready to guide you on your fitness journey. Stay tuned for more helpful tips, expert advice, and maybe a few more jokes from NFI Chatbot as we embark on this digital fitness adventure together. Happy Nordic walking!