Improve Health & Fitness & Make New Friends
Not just
Walking with Poles
Call us: 00353 (0)876936903
WEEK COMMENCING: SEPTEMBER 21ST  2020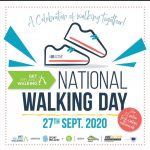 Tues
Wed
Thurs
NORDIC FIT BEGINNERS
WELLNESS WALK
NORDIC FIT INTERMEDIATES
WEEK 4
Sat
Nordic Fitness Ireland provide tuition in the use of Nordic Poles to improve all round fitness. Classes include, Nordic Walking, Nordic Running, Nordic Fit, Rehabilitation & Fitness Walks. We also run a Community Walking programme. Please note that that due to Corona Virus some of our programmes are currently suspended.
From our base at Burkedale House in Dysert O'Dea near Corofin, Nordic Fitness Ireland provide both residential and non-residential courses, walks, Nordic Walking experiences & holidays.
Our Nordic Walking experiences provide the opportunity to embrace the fabulous Clare countryside whilst learning a new skill. Relax in the garden of Burkedale House and enjoy tea and cakes or lunch on our half and one day experiences. Make a weekend of it and stay in our luxury self-catering accommodation. 
Our instructors are fully qualified in Fitness Walking and hold YMCA Level 2 certificates. Joanne, a former nurse, leads our rehabilitation programmes and Tony, an accomplish mountaineer and ultra runner, leads our running & mountain programme.
Nordic Walking Experiences
Call us: 00353 (0)876936903
Call us: 00353 (0)876936903